ENGLISH PAGE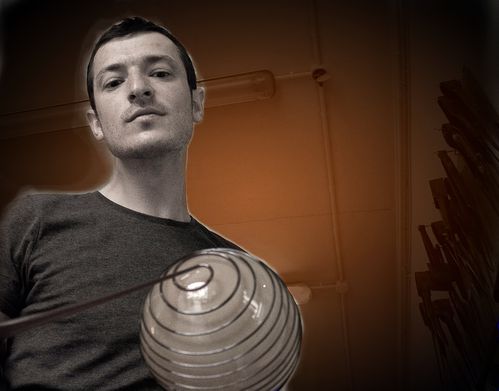 Striving for Technical and Artistic Excellence
CYRIL-JOHN ROUSSEAU
A Glass Artist Blowing Dreams
I have spent the last 12 years as a glass artist acquiring Swedish and Italian-influenced techniques from a number of glass masters.
In particular I'd like to mention my work with Stewart Hearnt and Bob Crook at First Glass Studio in London.
My creativity as a glass artist has been fed, inspired and developed by drawing, reading, even dreaming. As my inspiration has grown, my work has evolved towards one-off and very personal pieces.
My creations are a very sculptural and spontaneous response to my feelings, they are not the result of some long conceptual process. My artistic approach starts with the essential raw material.

Wishes and desires become ideas, ideas become projects. Then I have to think about constraints, techniques, materials and the production process. Quite often I have to develop techniques and tools that allow me to work effectively on my own.
Time is an important factor in my artistic approach. Time for thinking is limited, time imposes method and a certain rhythm on glasswork. I would like to be able to freeze time when someone is looking at my work.
What am I aiming for? To make line, tone and color work together to give the eye an aesthetic experience.

Create pieces that

promote wellbeing and generate excitement. Share the magic of blown glass with others, develop my work as a glass artist, and move into international markets.
In June 2012 winner of the "Jeune Createur des Ateliers d'Art en France" competition.
I will be showing my COCO SEED, RAYA, DISCUS and OXYGENE collections at the "Maison & Objet" exhibition in September.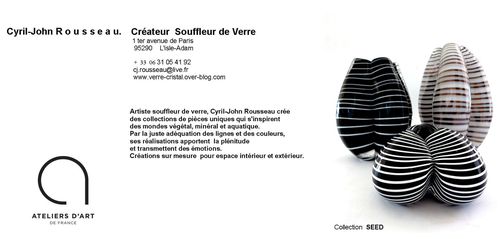 Cyril-John Rousseau is a glass artist whose one-off pieces are inspired by plant, mineral and aquatic environments. His work uses subtle movements of line and color to bring wellbeing and generate excitement. Pieces for indoors and outdoors, created especially for you.
HOUSE and OBJETS MAISON & OBJETS
From 7 till 11 september 2012 PARIS NORD VILLEPINTE 95
Cyril- John R O U S S E A U

CREATIVE YOUNG PRIZE - WINNER
Hall 4

space out CRAFT studio of ART of France

SEED new Collection
SEED takes its inspiration from the plant world,
its tense lines imply curvaceous sensuality and femininity.
Sober and complex design sets off curved surfaces to make you dream.
Sensual pieces to cushion you.
CJ.ROUSSEAU Design
OXYGENE Collection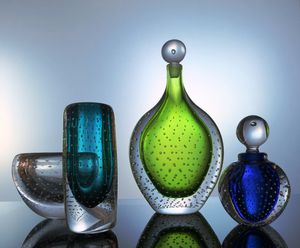 The Oxygen Collection uses bright forms and sparkling colors to emulate light.
Glass is a lifestyle in itself. Innovative. Luminous. And necessary.
CJ.ROUSSEAU Design
DISCUS Collection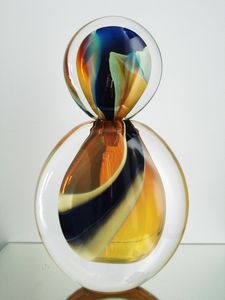 A collection of massive pieces, inspired by a waterworld of life and stillness,
which sets yourimagination free and takes you down into the depths.
Objects to make you dream. And daydream.
CJ.ROUSSEAU Design
DROP Collection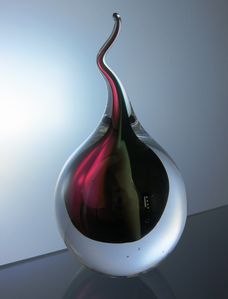 ARUM Collection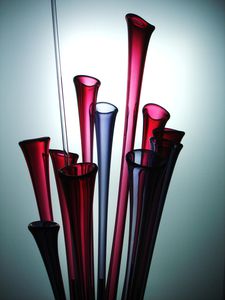 ARUM floats, pure white, deepest black, warm colours from life. It displays flowers and stalks.
We understand its simplicity and its desire to exist,
and it lights up a space in our lives.CJ.ROUSSEAU concept and Design
RAYA Collection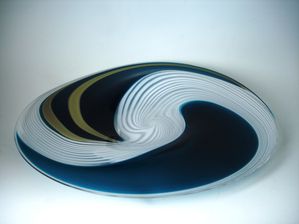 Spiral patterns decorate these objects, with interlacing colored and transparent veins.
They are brought to life by sinuous curves, shadowy forms and threads of light.
Creations to excite your living space.
CJ.ROUSSEAU Design
MURINA Collection
Return in the homepage blog Venez découvrir de belles idées Cristal
Partager cette page
Pour être informé des derniers articles, inscrivez vous :